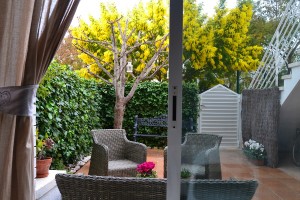 I'm Silvia Palà and I've been a conference interpreter since 1992. My first job was none other than during the Olympic Games of Barcelona. I was proud to participate from a professional point of view, since I was able to practice two of the things I feel passionately about, sports and my pleasurable interpreting profession.
During the early years I wanted to be each and every one of the professions that I participated in from the perspective of the interpreting booth. Thus, after being impregnated by the enthusiasm of the sportsmen that represented us and dreaming of being an Olympian in sailing dinghies, a new day saw me come home with my mind made up to become the best coach ever… A respected child surgeon… The most efficient orthodontist… The acclaimed director of a Publishing house… A manufacturer of stair lifts… An haute couture model… The driver of a new metro line… An actress… A sculptor… A nurse… Chairperson of the board.
Soon I realised it would be impossible for me to be a master of all and I decided to go with the flow and enjoy putting a voice to all those persons I had the privilege to interpret and of whom I was able to take a little bit home with me. Because I must admit that every single client of mine leaves something of themselves in me.
Till recently I did not feel the need to be present on the web. Word of mouth works wonderfully well. All the same it is undeniable that we live in a technological era and we have to be there, connected. And having my own personal blog where I can tell you about some of the things that I do is something I find enormously attractive.
Each year the mimosa I see from my window reinvents itself to offer me all of its splendour. It announces the arrival of spring. It is such an ephemeral plant that you can enjoy but fervidly its intense yellow flowers with their heady aroma that lasts for only a few days of relative quiet in my profession. So I make good the time to read, cook, enjoy my family and my friends and build up my reserves for the coming season.